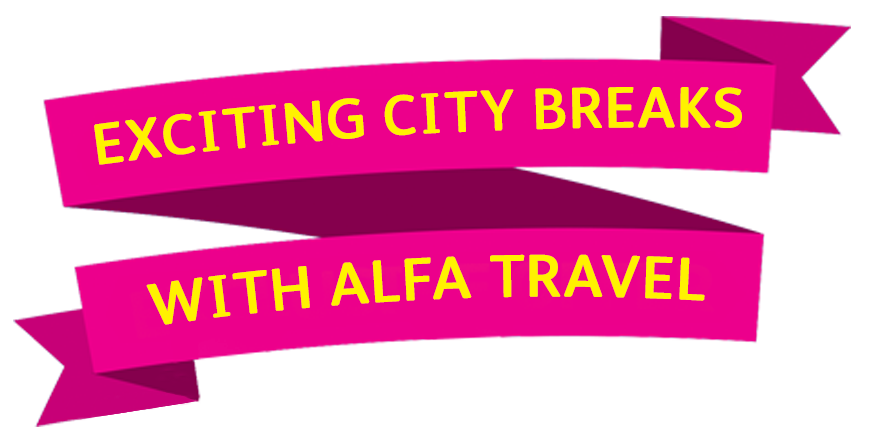 Exciting City Breaks with Alfa Travel
Our new City Breaks are ideal for anyone interested in British heritage, sightseeing or shopping. Located in the heart of some of Britain's most historic centres, these tours are perfect for exploring some of the country's most captivating cities. 
With fascinating excursions, expert local guides to lead the way plus hotel accommodation, dinner and breakfast included in the price – these breaks really are great value for money. 
Departing from North West
Departing from North East
Departing from North West
| | | | | | |
| --- | --- | --- | --- | --- | --- |
| Tour | Code |  City Highlights | Duration | Price From |   |
| Edinburgh and Glasgow City Tour | 5550 | Includes full day excursions to Edinburgh and Glasgow with guided tours of both cities  | 5 Days | £269pp | BOOK NOW |
| Leicester City Break | 5315 | Includes full day excursions to Leicester, complete with a guided tour, Richard III Visitor Centre and to Foxton Locks | 5 Days | £349pp | BOOK NOW |
| London & Kew Gardens City Break | 5247 | Includes full day excursions to Windsor, Kew Gardens and a guided tour of London  | 5 Days | £309pp | BOOK NOW |
| Newcastle City Break | 5292 | Includes full day excursions to Whitley Bay, Metro Shopping Centre and a guided tour of Newcastle | 5 Days | £249pp | BOOK NOW |
Departing from North East
| | | | | | |
| --- | --- | --- | --- | --- | --- |
| Tour | Code |  City Highlights | Duration | Price From |   |
| Glasgow & Edinburgh City Tour | 5550NE | Includes full day excursions to Glasgow and Edinburgh with guided tours of both cities | 5 Days | £269pp | BOOK NOW |
| Sheffield City Break | 5286NE | Includes full day excursions to Kelham Island Museum, Meadowhall Shopping Centre and a guided tour of Sheffield | 5 Days | £259pp | BOOK NOW |
| | | | | | |
| --- | --- | --- | --- | --- | --- |
| Tour | Code |  City Highlights | Duration | Price From |   |
| Glasgow & Edinburgh City Tour | 5550M | Includes full day excursions to Glasgow and Edinburgh complete with guided tours of both cities | 5 Days | £279pp | BOOK NOW |
| Leicester City Break | 5315M | Includes full day excursions to Richard III Visitor Centre, Foxton Locks and a guided tour of Leicester | 5 Days | £349pp | BOOK NOW |
| Liverpool City Break | 5304M | Includes a full day excursion to Chester and a guided tour of Liverpool | 5 Days | £264pp | BOOK NOW |
| London & Kew Gardens City Break | 5247M | Includes full day excursions to Windsor, Kew Gardens and a guided tour of London | 5 Days | £314pp | BOOK NOW |
| Newcastle City Break | 5292M | Includes full day excursions to Whitley Bay, Metro Shopping Centre and a guided tour of Newcastle | 5 Days | £249pp | BOOK NOW |
| Sheffield City Break | 5286M | Includes full day excursions to Kelham Island Museum, Meadowhall Shopping Centre and a guided tour of Sheffield | 5 Days | £259pp | BOOK NOW |
| | | | | | |
| --- | --- | --- | --- | --- | --- |
| Tour | Code |  City Highlights | Duration | Price From |   |
| Leicester City Break | 5315EC | Includes full day excursions to Richard III Visitor Centre and Foxton Locks and a guided tour of Leicester | 5 Days | £349pp | BOOK NOW |
| Sheffield City Break | 5286EC | Includes full day excursions to Kelham Island Museum and Meadowhall Shopping Centre and a guided tour of Sheffield | 5 Days | £259pp | BOOK NOW |
| | | | | | |
| --- | --- | --- | --- | --- | --- |
| Tour | Code |  City Highlights | Duration | Price From |   |
| Leicester City Break | 5315Y | Includes full day excursions to Richard III Visitor Centre and Foxton Locks and a guided tour of Leicester | 5 Days | £349pp | BOOK NOW |
| Liverpool City Break | 5304Y | Includes a full day excursion to Chester and a guided tour of Liverpool | 5 Days | £264pp | BOOK NOW |
| London & Kew Gardens City Break | 5247Y | Includes full day excursions Windsor and Kew Gardens and a guided tour | 5 Days  | £319pp | BOOK NOW |
| Glasgow & Edinburgh City Tour | 5550Y | Includes guided tours of Glasgow and Edinburgh | 5 Days | £289pp | BOOK NOW |