See Andre Rieu Live in 2022!
Born into a musical family, André Rieu has forged a life and a career bringing the joy of classical music to millions across the world through his Johann Strauss Orchestra. Extravagant costumes and sumptuous set design accompany the traditional waltzes and quirky adaptations of modern tunes.
Audience members are invited to immerse themselves in the concert, to sway, to dance, to laugh and even to hum along as the spirit of the music takes them.
Our evening in the company of André Rieu is the highlight of a delightful holiday based at the Leisureplex Queen's Hotel in Blackpool, Few resorts anywhere in the world can rival the popularity of Blackpool – Britain's Capital of Fun! The world famous Tower, three piers, miles of golden sands, the spectacular Pleasure Beach with its breath-taking "white knuckle" rides, horse drawn carriages, a Sealife Centre, Madame Tussaud's Waxworks, a Zoo Park, an Art Gallery – Blackpool has them all.
Departing from the North West, this tour is priced from just £314 Per Person including an exciting excursion to Southport!
Plus with all the usual benefits you would get when you stay at our 3AA Star Leisureplex Queens Hotel Blackpool, these tours are not to be missed!
HURRY - BOOK TODAY - TICKETS ARE LIMITED!
Do we have a fantastic tour for you!
Andre Rieu Live Tour - Liverpool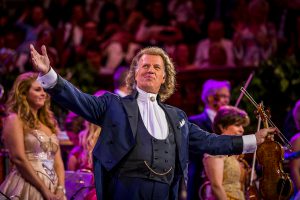 Departing from the North West on the 25th April 2022 and staying at our own 3 AA Star Leisureplex Queens Hotel in Blackpool, enjoy a 5 day long tour with Alfa Travel complete with tickets to see Andre Rieu Live in Concert at the M&S Bank Arena in Liverpool!
Violin superstar André Rieu has made classical music accessible to millions around the world and has turned the waltz into an international sensation, recently extending his record as the highest grossing classical artist in Billboard's Boxscore history.
Further, he continues to be the classical act with the highest attendance regularly outselling the world's top pop and rock stars. Rieu has had football crowds swaying to Shostakovitch and has sold over 40 million albums. His romantic and joyful programs include a mixture of light classics, waltzes, music from film and opera as well as pop songs, performed by his Johann Strauss Orchestra, the biggest private orchestra in the world.
His concerts are also a visual treat, from the sight of Rieu and his musicians entering through the crowd and up on to the stage at the beginning of the concert, to the lavish costumes and the vast screen behind the orchestra displaying beautiful imagery tailor-made for each song. André Rieu performs for over half a million people each year. His YouTube videos have reached far over one billion views and 8 million fans follow the "King of Waltz" on Facebook.
His current album "Jolly Holiday" has reached top 10 positions in many countries, including the UK Pop charts. André Rieu will return to the UK in 2022 with his full orchestra, soloists and choir for his three-hour concerts.
André Rieu is not just for an evening. He is for life!