Vote for Alfa Travel in the British Travel Awards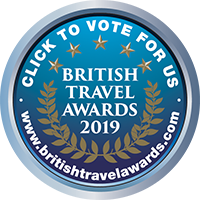 Alfa Travel is proud to be nominated for 'Best Coach Holiday Company' in the prestigious 2019 British Travel Awards (BTAs). 
As the UK's only Employee Owned travel company, we pride ourselves on our high standards. From the moment you make your first enquiry to the last day of your holiday, we strive to offer you the very best service, ensuring you have the most enjoyable holiday.
These awards are really important to us as a company as the winners are determined by YOU… our loyal customers!
If you love our Alfa holidays then we would really appreciate your vote! The voting process is simple and completed in just a few short steps. Plus, if you vote for Alfa Travel in the British Travel Awards then you will automatically be entered into a prize draw with the chance to win 18 fantastic prizes.
Voting closes on the 30th September 2019, and the results will be announced at the British Travel Awards night on 27th November 2019 in London.