2021 new-brochure-hp-banner
We are excited to announce our new brochure for 2021!
We are delighted to bring to you a fantastic handpicked collection of holidays to some of the UK and Ireland's finest destinations. In partnership with our very own Leisureplex Hotels, we offer you amazing included 'value added' excursions and the seasonal offers that you have come to expect from Alfa – all designed to tempt you away!
Our team of resident Alfa memory makers have been busy designing a new range of holiday experiences especially with our customers in mind, featuring a range of carefully selected third party hotels as well as our very own, much loved Leisureplex Hotels. The majority of our coach holidays include free excursions and admissions to some of the most fascinating places without the need to pre book or queue at busy times of the year. And don't forget with Alfa, there are no hidden charges with FREE local pick up points and FREE choice of seats even if you choose to sit at the front!
All our coach holidays and self drive breaks are fully financially protected. With our Covid Peace of Mind Guarantee, you can book your holiday with confidence, safe in the knowledge that if you have to cancel your holiday due to having to self isolate with Covid-19 symptoms or you are contacted by 'Track and Trace' and advised to self isolate, you can move your holiday departure date free of charge to another date in the future.
Please be assured that our customers and employee owners are part of the Alfa Leisureplex family and their safety will always be our number one priority. Our detailed Covid Secure Plans can be found on our website, or why not join our Alfa Travel Community Facebook group to ensure you stay up to date with all our latest communications.
You can also make the most of our Early Booking Loyalty Passport Scheme which is always a big hit with our customers. With lots of single rooms without supplement available across our Leisureplex hotels between October and April, there are plenty of reasons to book your next holiday with Alfa Travel.
Whether you have travelled with us before or are looking to holiday with us for the first time, as the UK's only employee owned travel company, we all really look forward to welcoming you on board in 2021 and thank you for your continued support.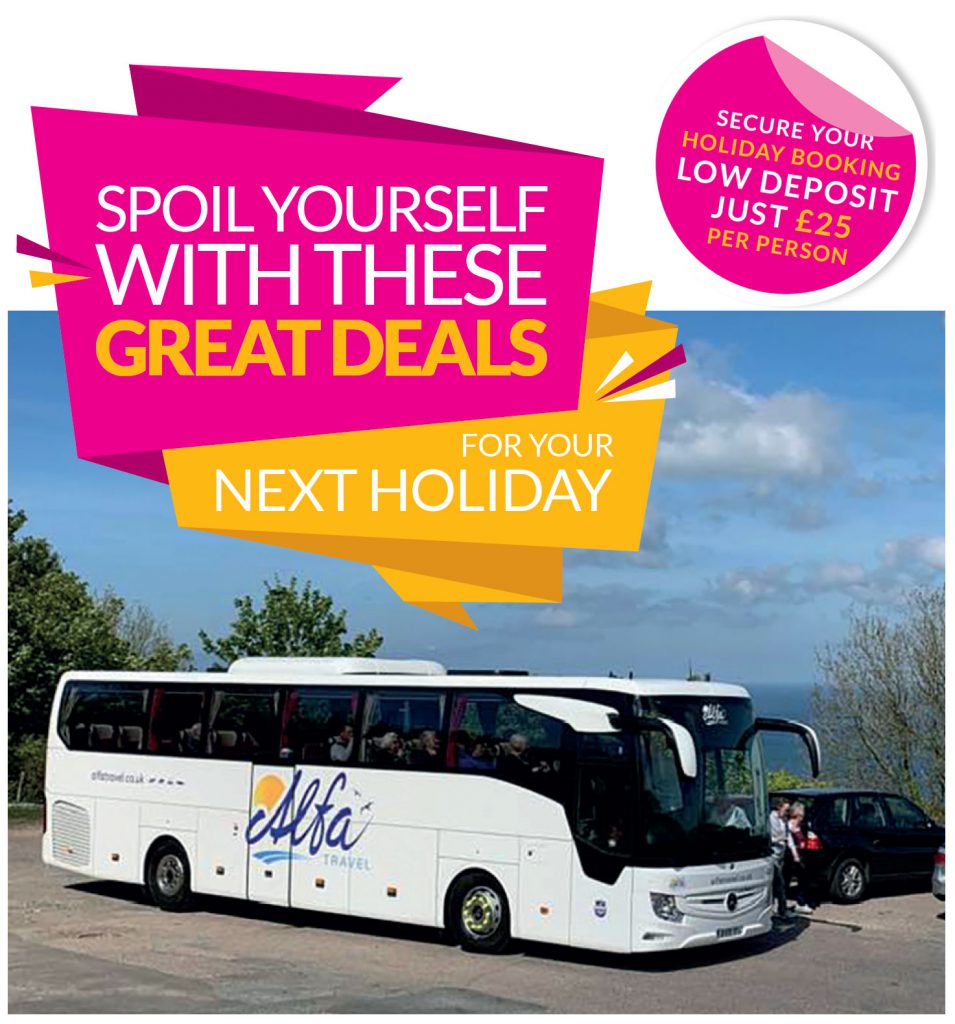 LOW DEPOSIT OF JUST £25 PER PERSON
There really is no better time to book your next holiday with Alfa. Take advantage of our £25 per person low deposit offer which is available on all 2021 coach holidays and self drive breaks when you book before the 31st October 2020. This is all that is required to secure your holiday, with no hidden charges if you decide to cancel at a later date within our loss of deposit stage under our booking terms and conditions.
EARLY BOOKING LOYALTY PASSPORT
Our extremely popular loyalty bonus is our way of thanking our thousands of frequent Alfa travellers. For the 2nd and all subsequent 2021 holidays of 5 days or longer, you receive a £10 per person discount providing you book by 31st December 2020.
With FREE lunches on resort days, FREE drinks, half price bar deals and no single supplements, these are not to be missed. See brochure for more details.
Bringing Coach Holidays nearer to you
We have made some exciting changes to our pick-up network including a range of NEW pick-up points across a number of our departure areas, which will be available for holidays departing in 2021. Plus we have made some big changes for our South departures for holidays departing from May 2021 onwards. Click the button below to take a look at the changes in store for your area.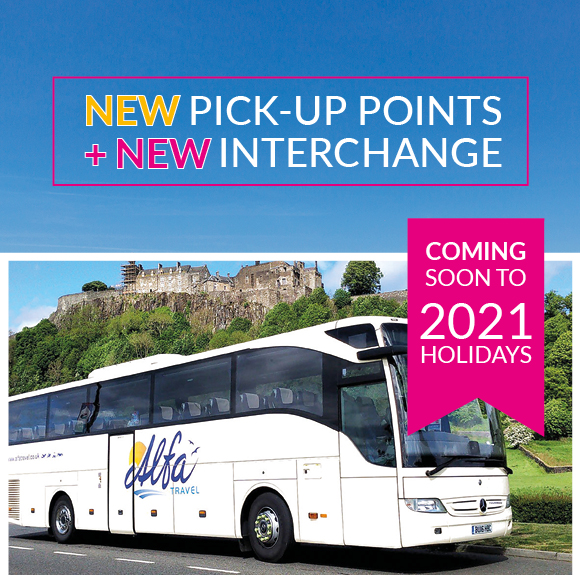 View the brochure online - select your departure area...
North West
Find tours departing from the North West
North East
Find tours departing from the North East
Midlands
Find tours departing from the Midlands
South
Find tours departing from the South
Eastern & South East
Find tours departing from Eastern & South East
Yorkshire & East Midlands
Find tours departing from Yorkshire & East Midlands
How do I get a printed copy?
If you are an existing customer, you should receive your brochure in the post so there is no need to order a copy! Otherwise, there are a number of ways to get your hands on our new 2021 brochure.